Holy Bible Desktop by Christian Central Network is a free offline Bible software. An unparalleled Bible study experience is provided by this all-in-one Bible software program. By combining authenticity, user-friendliness, and a wide range of features, Holy Bible Desktop aims to bring people closer to the Word of God. It is also protected from AI manipulation due to the fact that all of its APIs are sourced offline. Regardless of geography or technological limitations, we aim to make the Bible accessible to everyone.
➤ Version: hbdl_eab_0.11
➤ Released: September 4, 2023

📌 Main KJV Bible Program with powerful search and color themes access
📌 8 English versions and 26 Bible translations
📌 CCN Topical Bible
📌 CCN Bible Concordance
📌 CCN Subject Index Bible
📌 CCN Bible Dictionary
📌 CCN Parallel Bible
📌 Bible Commentary by Matthew Henry
📌 CCN Bible Trivia
📌 CCN Visual Bible
📌 MP3 Bible
📌 Strong's Hebrew
📌 Strong's Greek
📌 CCN Random Bible Verse Generator
📌 Speed Notes app for note taking
📌 CCN Bible Quiz
📌 Bible Word Counter
📌 Save to Text, Text to Voice and Bookmarking capabilities
📌 CCN Bible Course Tracker (Future feature update)
file download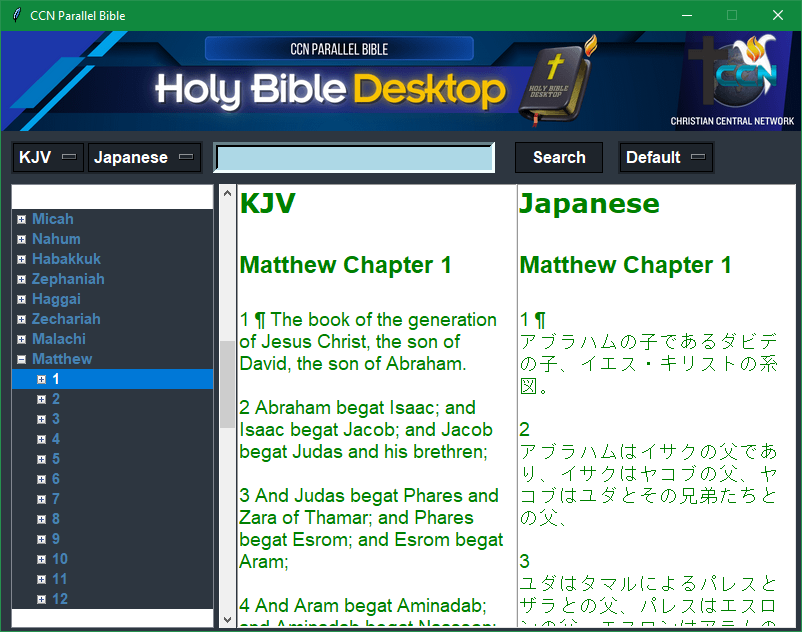 Disclaimer: This program is still in Early Access Beta. As such you may encounter bugs, errors or some missing features while using the program. Kindly inform us of any bugs or errors you may encounter while using this free software.
It is recommended that you have an archiving program e.g. WinRAR, WinZIP, 7Zip, or PeaZip to extract the setup installer for Windows.
This software is specifically made for Windows. It should work with Windows 10, 11, 7 and Vista. It is untested with Windows XP and earlier versions.
team members
🔷 Rock Punzalan – Software Innovator
🔷 Lily Chen – QA Engineer