PC Cheats for Warcraft 3
are listed here for archiving and recording purposes. Warcraft III is a real time strategy video game which Blizzard Entertainment developed and released on July 2002 for Windows.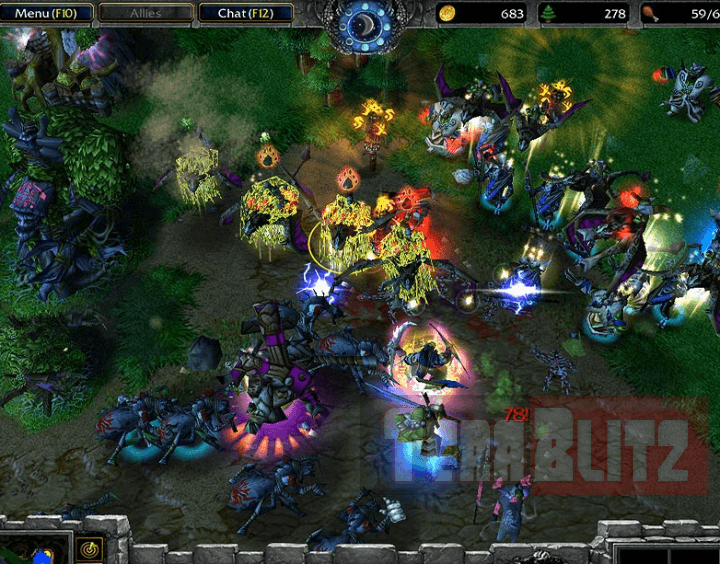 Cheats in Warcraft 3 Frozen Throne and Reign of Chaos works when you press the enter key and subsequently type-in the PC cheat code. Make sure to hit the enter key again to achieve the desired effect.
Genre
Real Time Strategy
Mode
Single Player, Battle.Net Online, LAN
Reign of Chaos Release
July 2002 for Windows
The Frozen Throne Release
July 2003 for Windows
Publisher
Blizzard Entertainment
Developer
Blizzard Entertainment
Steam
No
Battle.Net
Yes
PC Cheats for Warcraft III Reign of Darkness and The Frozen Throne
To use WC3 cheats, hit the enter key, type in the cheat, and press enter again. The message "Cheat Code Enabled" must appear. Tip: Works only in single-player missions and custom maps.
Cheat
Effect
WhosYourDaddy
God mode
KeyserSoze X
Gives you X Gold
LeafitToMe X
Gives you X Lumber
GreedIsGood X
Gives you X Gold and Lumber
PointBreak
Removes food limit
WarpTen
Speeds construction of buildings and units
IocainePowder
Fast Death/Decay
ThereIsNoSpoon
Unlimited Mana
Motherland [race] [level]
level jump
WhoIsJohnGalt
Enable research
SharpAndShiny
Research upgrades
IseeDeadPeople
Remove fog of war
Synergy
Disable tech tree requirements
RiseAndShine
Set time of day to dawn
LightsOut
Set time of day to dusk
DayLightSavings [time]
Set your time, otherwise time of day is alternately halted/resumed
TenthLevelTaurenChieftain
Plays a special song (Requires WarCraft III: The Frozen Throne)
StrengthAndHonor
No defeat
SomebodySetUpUsTheBomb
Instant defeat
AllYourBaseAreBelongToUs
Instant victory
posted March 16, 2016 by THE11thROCK for TeraBlitz.com
FAIR USE DISCLAIMER: The following data is for educational, scholarship review and archiving purposes only. By viewing this information, you release the website and its authors from any responsibility or liabilities. Though we verify and maintain the accuracy of the provided data, the absence of unintented typographical and factual errors cannot be guaranteed. Use the page at your own risk. For any suggestions, updates, credits or correction requests, Contact Us: terablitz.rock@gmail.com