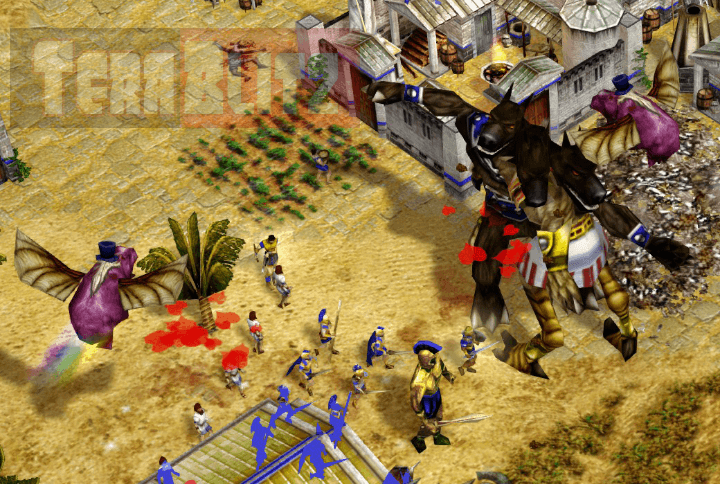 These are the
PC Cheats for Age of Mythology
. Released for Windows on October 30, 2002, Age of Mythology is a real time strategy and mythology-based video game created by Ensemble Studios and published by Microsoft Game Studios. It was re-released on Steam on May 8, 2014 as Age of Mythology Extended Edition through developer SkyBox Labs.
This RTS masterpiece received water and lighting graphical enhancements and HD widescreen capability added with several other new features. To enable PC Cheats for AOM, you would need to press Enter in-game and then type-in the necessary codes for the desired effects. For advanced users, modding the game xml files would unlock a plethora of game changes like population cap increase or better unit stats.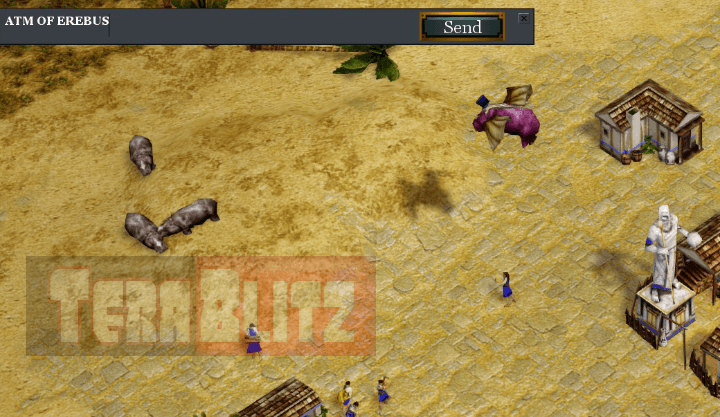 Genre
Real Time Strategy
Mode
Single Player, LAN, Co-Op, Online Multiplayer
Release
October 30, 2002 for Windows
Publisher
Microsoft Game Studios
Developer
Ensemble Studios
Steam
Yes
Age of Mythology Cheats for PC
Hit Enter to bring-up the Chat box in a Random or Campaign game and type-in the code cheat keys on to enable the PC Cheats for AOM. All the following cheats need to be typed-in in upeercase or All-Caps. Press the Send button or hit the Enter key to achieve the desired effect.
Cheat
Effect
ATM OF EREBUS
Gives you 1000 Gold
TROJAN HORSE FOR SALE
1000 Wood
JUNK FOOD NIGHT
1000 Food
MOUNT OLYMPUS
Full favor
DIVINE INTERVENTION
Allows you to use a previously used god power
FEAR THE FORAGE
Animates berry bushes
IN DARKEST NIGHT
Changes the game time to night
PANDORAS BOX
Gives you several random god powers
ZENOS PARADOX
Random god powers (includes Atlantean powers)
SET ASCENDANT
(Tip: Worship Set First) Controls all animals on map
L33T SUPA H4X0R
Fast (sometimes instant) building and research
LAY OF THE LAND
Reveal Map
WRATH OF THE GODS
Powers of Lightning, Earthquake, Meteor and Tornado
ISIS HEAR MY PLEA
Gives you the heroes from the campaign
I WANT TEH MONKEYS!!!1!
Gives you a bunch of monkeys
BAWK BAWK BOOM
Gives you a chicken-meteor god power
WUV WOO
Gives you a flying purple hippo
TINES OF POWER
Gives you a forkboy
O CANADA
Gives you a lazer bear
SET ASCENDANT
Reveals all the animals on map
UNCERTAINTY AND DOUBT
Hide map
LETS GO! NOW!
(Tip: press two spaces after GO!) Increase Game Speed
RED TIDE
Makes the water red
CHANNEL SURFING
Skips to the next scenario in the campaign
CONSIDER THE INTERNET
Slow game speed
GOATUNHEIM
(Tip: your heroes die) Transforms everyone into Goats
TITANOMACHY
Spawns a Titan at your Town Centre
BARKBARKBARKBARKBARK
Gives you a very powerful dog
ATLANTIS REBORN
Gives you Atlantean heroes
MR. MONDAY
1000% Titan AI Handicap
TINFOIL HAT
Ownership of all units on the map are randomized
RESET BUTTON
All buildings on the map become un-built
THRILL OF VICTORY
Win Random or Scenario game
CHANNEL SURFING
Instant Campaign win
Glitches: Unleash Hidden Taunt:
Press ENTER key and type-in 999 to play a hilarious music theme which includes animals singing. This is only possible when playing LAN or an Online Multiplayer match.
Secret: How to Control Animals
Let peasants worship the fictional Egyptian deity Set and type-in the code SET ASCENDANT. This particular cheat will reveal all animals in the AOM map. You now have control over Crocs, Deers, and Lions. Some farm animals are not controllable due to the code making them as primary food resource. These include Goats, Pigs and Chickens.
posted February 25, 2016 by THE11thROCK for TeraBlitz.com
FAIR USE DISCLAIMER: The following data is for educational, scholarship review and archiving purposes only. By viewing this information, you release the website and its authors from any responsibility or liabilities. Though we verify and maintain the accuracy of the provided data, the absence of unintented typographical and factual errors cannot be guaranteed. Use the page at your own risk. For any suggestions, updates, credits or correction requests, Contact Us: terablitz.rock@gmail.com