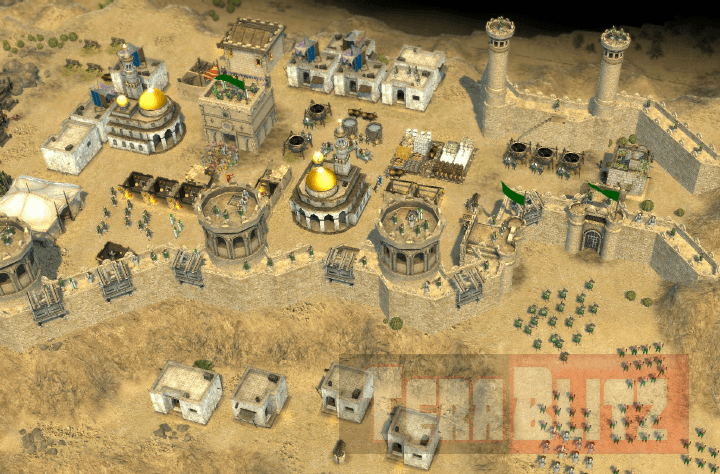 PC Cheats for Stronghold Crusader 2
are listed here for archiving and recording purposes.
Stronghold Crusader 2
is a 3D sim castle-based and real time strategy video game released by Firefly Studios in 2014 for Windows.
Stronghold Crusader 2
tries to relive the glory of the first Stronghold Crusader,
and enhances the genre by upgrading the 2D platform to full 3D graphics, with the addition of several game enhancements. There are no debug cheats for SC2, but tips, hints and achievements will help you master this gorgeous medieval game.
Genre
Real Time Strategy, Sim Building, Medieval Castle
Mode
Single Player, Multiplayer Online, LAN
Release
2014 for Windows
Publisher
Firefly Studios
Developer
Firefly Studios
Steam
Yes
Steam Achievements
Yes
This guide will teach you on how to hold your adversary prisoner inside his own castle or keep. We need to first wait and check if the opposition has enclosed their keep. When assured that the castle in enclosed by walls, place a Gatehouse opposite the enemy Gatehouse. Next we will place two Oxen Tethers immediately in front of the gatehouse so that enemy units cannot possibly enter or exit. When in place, turn the Oxen Tether industry off as fast as you can. Any buildings, structures or industries outside your enemy keep should be useless as resources will cease to flow as no peasants can get to them.
How to be called Vader or Darth Vader
How to be called The Wolf
Complete the necessary tasks to unlock the desired Steam achievement. To check your achievements in Steam, go to "Community", "My profile", "View all my games", then the game and view the stats.
"Lionheart" Campaign:
Complete "Lionheart" campaign.
"Preparations" Campaign:
Complete "Preparations" campaign.
"Saladin" Campaign:
Complete "Saladin" campaign.
All Knight Long:
Have 100 mounted knights at your command.
Animal Air Strike:
Throw 100 animals.
Architect:
50 towers, 50 hovels.
Arms Dealer:
Send 500 weapons to allies.
Assassin's Deed:
Kill the enemy lord with an assassin.
Clear Passage:
All trade caravans survive in "Robber Baron" within the "Delivering Justice" campaign.
Conqueror:
5 multiplayer wins.
Demolition Man:
Destroy 1,000 buildings.
Farmer King:
Deliver 100,000 food to the granary.
Fetchez la Vache!:
Kill a lord with a diseased cow.
Forge Lord:
Deliver 10,000 weapons to the armoury.
Industry Baron:
Deliver 100,000 resources to the stockpile.
Iron Will:
Win a skirmish trail mission only recruiting melee troops.
Let None Stand in my Way:
Kill 50 enemy lords.
Lion Tamer:
Kill 5 lions with a slave driver.
Loyal Companion:
Complete "Alliance" within the "Breath of the Infidel" skirmish trail without your ally dying.
Medic!:
Heal your lord to half health from the brink of death.
Millionaire:
Generate 1,000,000 gold.
Not So Magnficent Seven:
Win a multiplayer against 7 other lords with no alliances.
Skirmish Baron:
Complete "Desert Heat" skirmish trail.
Skirmish Duke:
Complete "Way of the Warrior" skirmish trail.
Skirmish King:
Complete "Hell's Teeth" skirmish trail.
Skirmish Knight:
Complete "Breath of the Infidel" skirmish trail.
Skirmish Prince:
Complete "A Trail of Tears" skirmish trail.
Skirmish Yeoman:
Complete "Baptism" skirmish trail.
Speedrun:
Complete "Antioch" within the "Lionheart" campaign in less than 10 minutes.
Stealth is our Defense:
Complete "Justice" within the "Saladin" campaign without losing any assassins.
Tactician:
Complete "The Lion's Den" within the "Preparations" campaign on hard without training any units.
Take the Bull by the Horns:
Complete "The Horns of Hattin" within the "Freedom Fighters" campaign in less than 10 minutes.
The Killing Joke:
Kill a jester.
Warrior 1st Class:
Kill 50,000 troops.
Warrior 2nd Class:
Kill 10,000 troops.
Warrior 3rd Class:
Kill 1,000 troops.
Welcome to the Family:
Sign up to the mailing list.
You Win or You Die:
Kill an enemy lord with your lord.
posted March 2, 2016 by THE11thROCK for TeraBlitz.com
FAIR USE DISCLAIMER: The following data is for educational, scholarship review and archiving purposes only. By viewing this information, you release the website and its authors from any responsibility or liabilities. Though we verify and maintain the accuracy of the provided data, the absence of unintented typographical and factual errors cannot be guaranteed. Use the page at your own risk. For any suggestions, updates, credits or correction requests, Contact Us: terablitz.rock@gmail.com