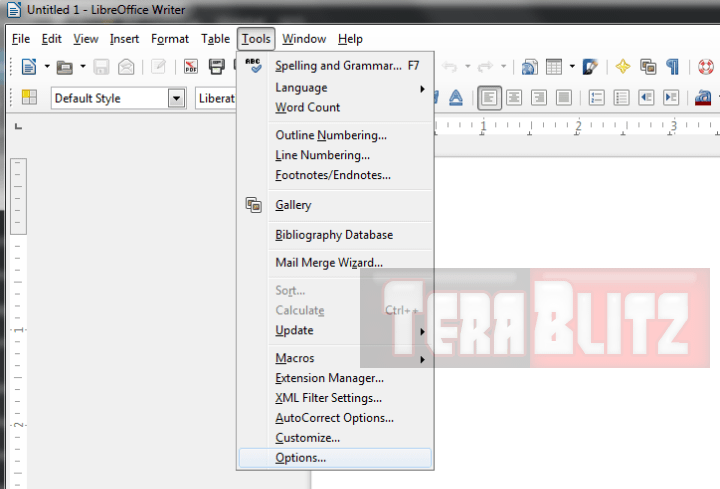 This guide teaches you on
How To Speed-Up Libre Office Startup and Disable the Splash Screen
. Libre is a great office suite and a must-have alternative to Microsoft's but the startup leaves much to be desired. In this How-To we will help you speed-up the startup of LibreOffice, tweak the memory settings and disable the nagging Splash Screen.
For new users, Libre Office is a freeware open-source alternative and direct competitor to office suite Microsoft Office. The source of Libre Office was forked from Open Office in 2010 and was developed by The Document Foundation. LibreOffice includes apps for word processing, spreadsheets, slideshow presentations, databases and diagrams.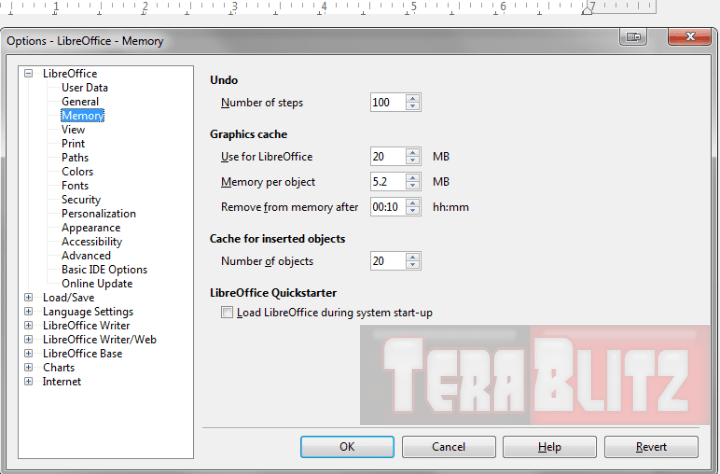 The following are the steps to help you launch LibreOffice faster than the default settings. These tweaks work for either Linux or Windows.
How to launch LibreOffice
1. Head to Applications > Office > LibreOffice Word Processor for Ubuntu (Linux)
2. Or just click LibreOffice shortcut for Windows
3. The LibreOffice Word Processor is now open. Head to the Tools menu and select Options. The Options window is now open.
How to install Libre in Ubuntu Linux
sudo add-apt-repository ppa:libreoffice/ppa
Speed-Up Libre
1. Highlight Memory on the left panel, change the RAM settings as shown below.
2. Reduce the number of Undo steps to a number lower than 100. I choose 20 steps.
3. Under Graphics cache, set Use for LibreOffice to 128 MB (up from the 6MB).
4. Increase Memory per object to 20MB (up from .5MB).
5. Set the number of objects under Cache for inserted objects at 20.
6. At your own risk, you can enable or disable the quickstarter for Libre. I prefer to disable it myself. To permit it, check LibreOffice Quickstarter.
Disable Java
Java is a security risk and a performance hog. Disable it entirely except if you use plug-ins which rely on Java.
1. Choose Java on the left panel
2. Uncheck "Use a Java runtime environment"
Disable Background Autostart for Libre
For final notes and to prevent Libre from stealing precious performance from the Operating System itself, uncheck LibreOffice start-up in MS-Config.
1. Hit Ctrl+Shift+Esc and click File then hit Run.
2. In the Run dialog box type msconfig and look for the open-office entry.
3. Uncheck it, then hit OK.
4. Restart your PC and you're good to go.
Disable the LibreOffice Start-up Splash Screen – In Windows
1. Go to your default LibreOffice directory, usually C:\Program Files (x86)\LibreOffice 5\
2. Go further directly to C:\Program Files (x86)\LibreOffice 5\program\
4. Open it with your text editor like Notepad++ and find the word Logo=1.
5. Change the value from 1 to 0, which will show Logo=0.
6. An alternative of doing this is through the command line. Type using the command line – "C:\Program Files (x86)\LibreOffice 5\program\swriter.exe" -nologo
Disable the LibreOffice Start-up Splash Screen – In Linux
A. via Menu
1. Right click on top-left Applications and choose Edit Menus.
2. Then choose Office from the left panel.
3. Hit "LibreOffice Calc" (same for other LibreOffice icons).
4. Hit the Properties button.
5. In your Command window the default value is: libreoffice -calc %U
6. Change this in Command to add -nologo switch so now it is: libreoffice -calc -nologo %U
7. Close the open window and restart Libre from Application > Office > LibreOffice Calc.
8. Splash Screen will no longer appear.
B. Or use gedit
1. Go edit the "sofficerc"-file via gedit
2. Type /etc/libreoffice/officerc.
3. Next, you have to change the variable Logo to 0 which will show:
4. Save the file and you're done.
That should boost LibreOffice up and let you do your homework without the hiccups. Restart LibreOffice and voila! Chop off more than 10 seconds off the loading time. Happy Tweaking!
posted March 1, 2016 by THE11thROCK for TeraBlitz.com
FAIR USE DISCLAIMER: The following data is for educational, scholarship review and archiving purposes only. By viewing this information, you release the website and its authors from any responsibility or liabilities. Though we verify and maintain the accuracy of the provided data, the absence of unintented typographical and factual errors cannot be guaranteed. Use the page at your own risk. For any suggestions, updates, credits or correction requests, Contact Us: terablitz.rock@gmail.com