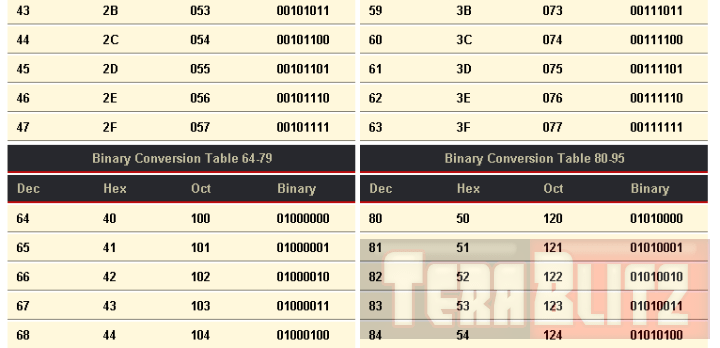 Binary Conversion Table to Dec, Hex, Oct Cheat Sheet
. The Decimal (base 10) system has ten possible values (0,1,2,3,4,5,6,7,8, or 9) for each place-value. In contrast, the Binary (base 2) system has only two possible values, digits represented as 0 or 1, for each place-value.
For your coding and programming convenience the table below provides you with an accurate binary conversion cheat sheet. It is neatly organized to its Decimal, Hexadecimal, Octal and Binary values.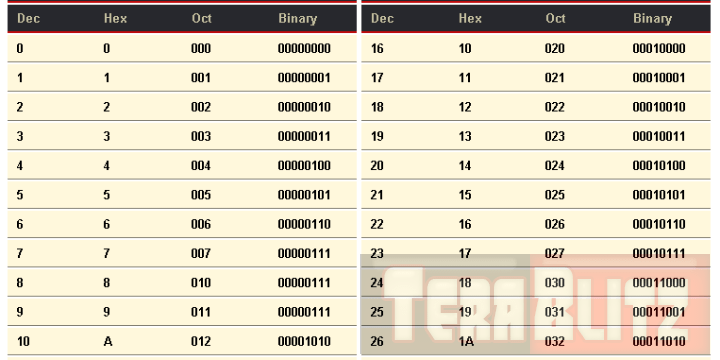 Binary Conversion Table 0-15
Binary Conversion Table 16-31
Binary Conversion Table 32-47
Binary Conversion Table 48-63
Binary Conversion Table 64-79
Binary Conversion Table 80-95
Binary Conversion Table 96-111
Binary Conversion Table 112-127
Binary Conversion Table 128-143
Binary Conversion Table 144-159
Binary Conversion Table 160-175
Binary Conversion Table 176-191
Binary Conversion Table 192-207
Binary Conversion Table 208-223
Binary Conversion Table 224-239
Binary Conversion Table 240-255
posted February 25, 2016 by THE11thROCK for TeraBlitz.com
FAIR USE DISCLAIMER: The following data is for educational, scholarship review and archiving purposes only. By viewing this information, you release the website and its authors from any responsibility or liabilities. Though we verify and maintain the accuracy of the provided data, the absence of unintented typographical and factual errors cannot be guaranteed. Use the page at your own risk. For any suggestions, updates, credits or correction requests, Contact Us: terablitz.rock@gmail.com